Today, I'm joined by author Tom Cotter to learn about his experience taking the most epic American road trip from Key West, Florida, to Deadhorse, Alaska!
Tom is no stranger to road trips, having traced Route 66 in a 1939 Ford Woody wagon and following the Lincoln Highway coast to coast behind the wheel of a 1926 Model T. Popularly known as "The Barn Find Hunter," Tom travels around the country in search of hidden classic car collections and has his own series on YouTube with Hagerty Media.
Tom shares why he decided to get off the interstate and travel off-grid and what he learned along the way. You'll hear his advice on what type of vehicle setup is best for a massive road trip like this, how one of the "crusty" cowboy towns he ended up in turned out to be one of his favorite experiences, the least impressive spot he visited (which might surprise you), why he hates using a GPS or doing research before he travels, and a ton more.
What's the longest road trip you've taken? I'd love to hear your experience and hope you'll share by sending me an audio message.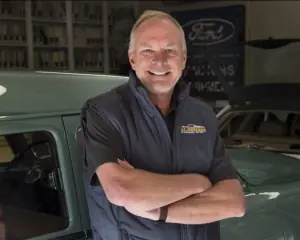 Premium Passport:
Tune In To Learn:
How he balanced being present with documenting the travel experience

The lesson he learned at a Chinese restaurant that he'll remember for the rest of his life

What inspired the book, why they traveled in the vehicle they did, and what he learned from it

How he was able to build a life around his passions and what success means for him

Why he prefers not to do any research before a trip

The experience that made him fall in love with a dirty, dreary small town in Montana

What he was relieved to learn about people in America and something he didn't expect driving through Canada

His top 3 hidden gems and advice for making a great road trip

And so much more
Resources:
Want More?
Thanks To Our Sponsors
Sometimes, it just makes more sense. Book your next group stay with

Airbnb

!

This episode is also sponsored by US Bank's

Altitude Connect Visa Signature Card

, with the ability to earn up to 5x the points on travel-related expenses like hotels, and rental cars, this card will get you the most return on your next trip. 

Get 15% off your next gift from Uncommon Goods by visiting

uncommongoods.com/travel

.
✕
You're almost there!
Drop your email below so we can send your FREE course!