Travel Jobs
Work on the road to stay on the road.
Hey, Jason here!
"How was I able to travel the world after leaving college with over $20,000 in student debt? Travel jobs, that's how! The right job will allow you to pay those pesky bills while exploring the world, having adventures and meeting interesting folks from all walks of life.
Don't let bills and debt keep YOU off the road. Travel jobs just might be the perfect solution if you're hell-bent on traveling somewhere (anywhere really!) and open to taking on different jobs despite your degree, background or formal training.
Are you ready for an exciting and unpredictable life of adventure loaded with travel? Here are some resources to help you get started."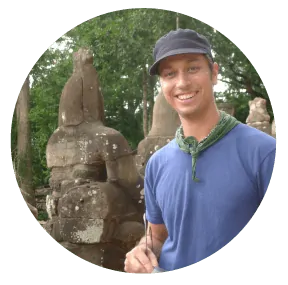 Jason Moore
Travel Jobs
Not sure where to start your travel job search. This article provides plenty of resources to get you going without overwhelming you.
Read More
A step-by-step guide written by an industry expert that teached you how to land a job on a cruise ship so you can get paid to travel the world.
Read More
It's true, I got paid to drive a giant cat shaped van across the USA. Discover this quirky touring industry you've probably never heard of.
Read More
Reality TV made this seasonal job famous but what's it really like to work out on the sea, how much money can you make and is this industry right for you? Get the inside scoop in this exclusive interview with a long term fisherman and boat owner.
Read More
My friend Juniper has traveled the world working as a river rafting guide. Here she breaks down the reality of river life and what it takes to become an in demand whitewater rafting guide even if you've never set foot in a boat.
Read More
Working for the airline certainly has its travel perks and there are plenty of jobs available outside of being a pilot or a flight attendant. Learn from a long time airline employee what airline work can do for your wanderlust.
Read More
You might be shocked at the variety of fun seasonal jobs available out there and how they can help you kickstart or continue you life on the road.
Read More
What does it take to work internationally as an au pair? In this candid interview you'll learn what the experience is like, how to break in and if it's right for you.
Read More
Want to make a living creating content around the thing you love the most? It's not easy but the good news is that it can 1000% be done. This resource contains out of the box ideas and practical tips designed to get you started today...as in right now! If you've been thinking about doing something like this for awhile and you're tired of putting it off this is the article for you.
Read More
Read All Articles
Tune in today as travel jobs month continues….you'll learn what it's like to be an au pair and some strategies and thoughts around getting a travel job. My guest has been living in Norway (for almost 2 years) as an au pair and is looking to stay after her contract is over. It was super cool that she came to meet me in Oslo for our interview.
read more
✕
You're almost there!
Drop your email below so we can send your FREE course!