Are you in love with travel?
I know the feeling!
One thing I've learned after 15+ years on the go is that there a countless ways to travel the world.
My love of travel is a constant but how I travel is relentlessly changing, because just like you, my life is always different.
New relationships, friendships, jobs, situations, financial ups and downs, interests, hobbies, the list of things changing goes on forever.
There are a lot of travel sites out there sharing how to roam on a budget, or specializing in one type of travel.
But if traveling is part of your life for long enough, how you do it will definitely shift over time.
For example, you may be a straight budget traveler for 6 months, then go home and work for a year, then try to find work that allows you to travel, then maybe get an idea to ride a bike 3000+ miles on an adventure, then start a business, then….well you get the idea.
Here you can discover new and different ways to travel the world no matter what your situation or experience.
We share actionable advice from experienced travelers through podcasts, interviews, articles and more!
Interested in getting travel work?
 Want to start a location independent business? 
Trying to discover unique ways to travel on a budget?
 Want to create a life built around travel?
Zero To Travel has you covered.
And best part is our supportive community!
Z2T is also an amazing place to connect with other wandering souls.
Whether you're a travel newbie DYING to figure out a way to explore the world, an occasional traveler LONGING to make your holiday everyday or a seasoned traveler SEEKING unique ways to continue wandering you're all welcome here!
Please feel free to explore the site, learn, connect with others and share your knowledge.
If there is anything I can do to help please hit me up at jason@zerototravel.com
Ok, well I'll let you get back to whatever you are doing. For now, if you want to hang with the Z2T caravan just sign up for our email list and I'll keep you looped in.
And we won't spam you because it's something we eat when we're on a budget, not something we do over email:)
Go ahead and sign up to join in now, if you haven't done so yet. I'm totally psyched to have you here.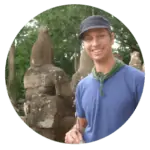 Jason
You're almost there!
Drop your email below so we can send your FREE course!